Playfreely: Nervous Systems
The Observatory's annual experimental/improvised music festival, Playfreely returns in a new format, one that generates new constructions and in multitudes of interpretations.
As we are stranded within the borders of the Dark Ages, systems and states of nerves come under the peril of an unseen spectre.
These absurd times have propelled us into reflecting the deprivation of physicality and challenge our common understanding of how music and sound is presented.
Nervous Systems
is an exhibition that assembles artists working with an expanded exploration of sound, with works that are informed by the spatial, site specificity and temporal nature of our environments and common life.
Activating, dissipating and evolving in relation to the space we share, we attempt to seek equilibrium with what surrounds.
We now pause and allow time to experience us.
______________________
Artists
dj sniff (Tokyo)
Gijs Gieskes (Geldrop)
Makoto Oshiro (Tokyo)
Yuko Mohri (Tokyo)
Spang & Lei (Singapore)
The Observatory × Yuta Nakayama (Singapore)
____________________
12 to 21 March 2021
Various locations around Goodman Arts Centre
Exhibition opening times
Weekdays:
3pm – 4pm (via email appointment) and
4pm – 7pm (walk-in)
Weekends:
11am – 7pm (walk in)
For early viewing appointments, please email
info@theobservertory.com.sg
_______________________
Guided Tours by The Observatory:
13 & 20 March, 4pm-5pm
Slots for Guided Tours are limited
Book a slot
here.
Exhibition Map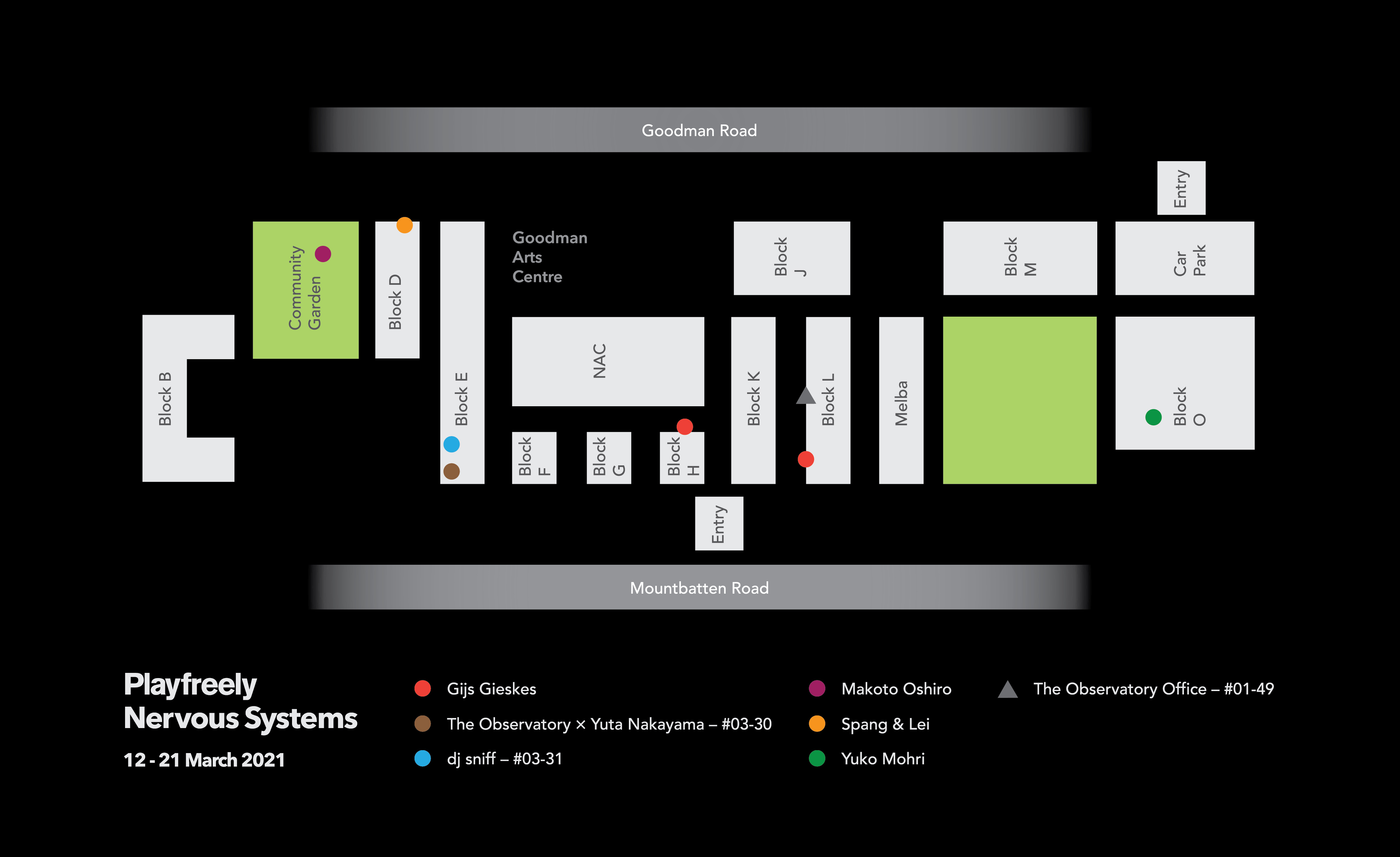 Click to expand